Books   Videos
Certifications   Retreats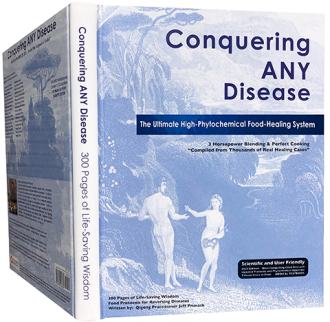 Hardcover 2020 Edition
Our best selling book since 2005. CAD reveals food science about disease and protocol solutions in an easy to understand language. Now with phytochemical and fatty acid appendix to improve learning.
Hardcover Coil Edition
Smoothies are abundant in living phytochemicals that act as spark plugs to the immune system. We have crafted our best recipes for easy implementation. Now with expanded smoothies for kids.
Hardcover Edition
Mastering 5-Elements is about Qi of relationships and personalities. People say the book is funny and rings true. Traits of each element are given with lifestyle suggestions to promote health in your element.
Digital PDF 2021 Edition
MindBody Activation manual has all presentations, qigong, breath exercises, healing modalities etc. Includes supportive science and discussion of life's most important subjects related to wellbeing.
Digital PDF 2021 Edition
Cooking with Qi emphasizes eating healing foods based on CAD book. Includes instructions for sweet red pepper paste, orange pepper butter asparagus egg tarts and just about every healing food used deliciously.
Qigong Healing & Breath Videos
*Lifetime access from any device
We animated our qigong videos with realistic qi energy to deepen your practice and understanding. Level-1 is our most popular video.
Complete Library has our three qigong videos, strength training, breathwork and meditations.
Qigong Level-1 Certification
Improve your qigong to be more productive, get adjustments on your postures and learn what it takes to teach this routine.
MAY 25th 1:00pm-2:30 Eastern is the 1st class. *Also watch later at anytime
2nd class is 1hour private session with qigong teacher Jeff Primack scheduled by email after training.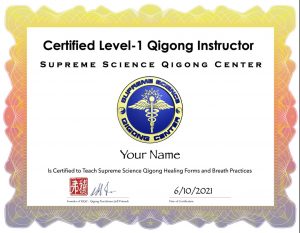 Food-Healing Certification
This 2 day course helps you learn healing properties of all the foods, herbs & mushrooms in CAD book.
Optional exam is given to test your knowledge. If you pass, you will be given access to some of Jeff's food presenation slides to share with your community.
JUNE 26th-27th
10:00am-5:00pm Eastern
Hawaii Big Island Qigong Retreat
November 1st-7th, 2021
November 8th-15th, 2021
Experience waterfalls and energy like never before at our Big Island Qigong retreat. Includes delicious food, lodging, pickup from airport. Spaces are limited and filling up quickly. 50% deposit holds your space.
Light Body Activation
12 Week Mentorship Program
Our most advanced energetic and spiritual training. Focuses on awakening chakras and clearing obstacles to wellness.
Private consultations are provided to optimize food, exercise and all aspects of health are addressed.
For more information contact Stephen Entin (760)-415-0034